(January 24, 2018, Suzhou) Suzhou Kintor Pharmaceuticals Co., Ltd. (Kintor) and Pfizer Inc. (Pfizer) held a press conference in Suzhou today on development of an innovative antibody drug for cancers. Pursuant to the agreement, Kintor is granted exclusive, worldwide rights to develop manufacture and commercialize a novel anti-tumor antibody drug. This is the first time Pfizer has licensed a Chinese company to develop a new antibody drug in tumor therapy. The drug is expected to become the world's first fully human therapeutic monoclonal antibody that targets ALK-1 (Activin receptor-like kinase-1).
In 2015, China saw 466,000 patients newly diagnosed with liver cancer, accounting for half of the newly discovered liver cancer cases across the world. Liver cancer is hard to be diagnosed at its early stage. It is highly malignant, with quick development process and hard to be cured. Many curative therapies including surgery, liver transplantation and interventional therapy show low efficacy over patients diagnosed at an advanced stage and typically, the average survival period is only for 6 months. It is a common goal of Kintor and Pfizer to develop new drugs for this high incident cancer in China and bring clinical innovation and effective treatment options to Chinese liver cancer patents.
In all the current liver cancer therapies, targeted therapy represents one of the key focusing of developments in future. Monoclonal antibodies have been widely used in treatment of different diseases, while the development of mAb against different targets is in full swing across the world. ALK-1 is mainly expressed in vascular endothelial cells and associated with growth and migration of endothelia cells. By blocking this receptor, it is possible to inhibit growth and reduce blood flow and angiogenesis of tumor vessels, so as to effectively slow tumor progression. ALK-1 has a special target with a wide range of effects in tumor biology, which not only inhibits tumor angiogenesis, but also causes changes in the tumor microenvironment. ALK-1 is a drug that changes the tumor microenvironment and conforms to the concepts of modern anti-tumor therapy in combination with other targeted drugs. The cooperation is reportedly to produce a world's first fully human monoclonal antibody drug for ALK-1 receptor blocker.
The preliminary development of the drug was conducted by Pfizer and has completed two Phase I clinical trials in the United States, Italy, South Korea, and Japan in 2014. It was validated in nearly 100 patients with advanced solid tumors. This drug has a quite good safety profile and liver cancer patients in the dose expansion group showed certain disease control rate. The preliminary trial results are to be verified in the Phase II clinical trials.
About the cooperation
Kintor has the mission as exploring new ideas in oncotherapy and developing world-class innovative drugs. Since its inception, Kintor has accumulated a great deal of experience in development of new drugs by focusing on the research of innovative cancer drugs and bringing together top experts and teams in various fields. It has a number of anti-cancer drugs under development, among which Proxalutamide, an androgen receptor antagonist and a Class I new drug in prostate therapy, has initiated Phase II clinical trials. Kintor is constantly improving its R&D strategy and product pipeline. It is the first time that Pfizer has granted a local Chinese company with the rights to develop new antibodies globally for tumor therapy. Through cooperation with Pfizer, Kintor will succeed Pfizer in developing theALK-1 monoclonal antibody, leveraging its own R&D capabilities.
The cooperation on ALK-1 is a major milestone of Pfizer's localized R&D strategy. As a leading foreign pharmaceutical company in China, Pfizer has actively responded to the strategic plan of vigorously developing the bio-industry and promoting pharmaceutical innovation, transformation and upgrading set forth in the Outline of Healthy China 2030. Pfizer has been dedicated to furthering its localized research and development, and introducing global R&D experience and know-how, and establishing innovative strategic partnerships with local pharmaceutical companies to promote the overall improvement of local R&D capabilities, systems, technological patents, talent development and innovation culture. Pfizer will work with local companies to boost the health and well-being of people in China and the rest of the world with more innovative drugs.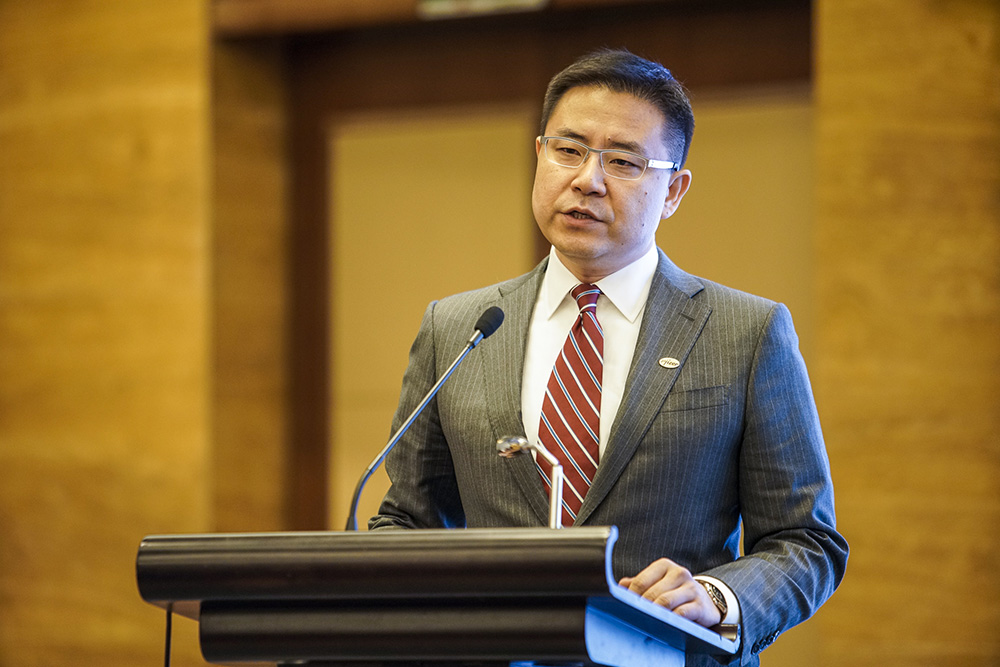 Mr. Wu Kun, Head of Pfizer Innovative Health China
Pursuant to the agreement, Pfizer will license Kintor with the rights to develop, manufacture and commercialize globally ALK-1, and support Kintor with the preclinical and Phase I clinical trial results and proprietary technologies. Meanwhile, Pfizer retains relevant options at various R&D stages to develop, manufacture and commercialize the drug outside China. Capitalized on the Phase I clinical trial results, Kintor will carry out global multi-center Phase II clinical trials and other clinical trials for its use in combination with different drugs, and initiate the relocation of drug production into China. In addition, Kintor will actively explore and expand applications of the drug in treating other diseases than liver cancer to benefit the broader patient population as soon as possible.
About Pfizer
At Pfizer, we apply scientific knowledge and our global resources to improve health and well-being at every stage of life. We strive to set the standard for quality, safety and value in the discovery, development and manufacturing of medicines for people. Our diversified global health care portfolio includes medicines and vaccines, as well as many of the world's best-known consumer goods. Every day, Pfizer colleagues from established and emerging markets around the world work to advance wellness, prevention, treatments and cures that challenge the most feared diseases of our time. Consistent with our responsibility as the world's leading biopharmaceutical company, we also collaborate with health care providers, governments and local communities to support and expand access to reliable, affordable health care around the world. For more than 160 years, Pfizer has worked to make a difference for all who rely on us. For more information about Pfizer, please visit www.pfizer.com.cn.. To keep track of our information, please visit our WeChat (Pfizer) and Weibo (Pfizer China) accounts.